Proudly Serving Dallas, FT.Worth, San Antonio, Houston.
Form I-140 is used to sponsor an immigrant worker for a green card. This is the next step in getting a green card based on employment. It allows you to work full-time permanently in the United States (U.S).
The I-140 petition is filed after the Department of Labour approves your PERM labor Certification. It demonstrates an employer's commitment to employ you after the U.S. Citizenship and Immigration Services (USCIS) issues you a green card. It generally happens when you are highly skilled and there are no suitable U.S. workers for the position.
Form I-140 does not grant you lawful permanent resident status (green card). You must still get approval for Form I-485 to finalize your permanent residency. However, the USCIS permits you to file Form I-485 and Form I-140 simultaneously.
Keep reading to find out more about I-140 petitions.
Eligibility for I-140 (Immigrant Petition for an Alien Worker)
In determining eligibility, the USCIS considers your qualifications and abilities. Your employer may file an I-140 petition on your behalf: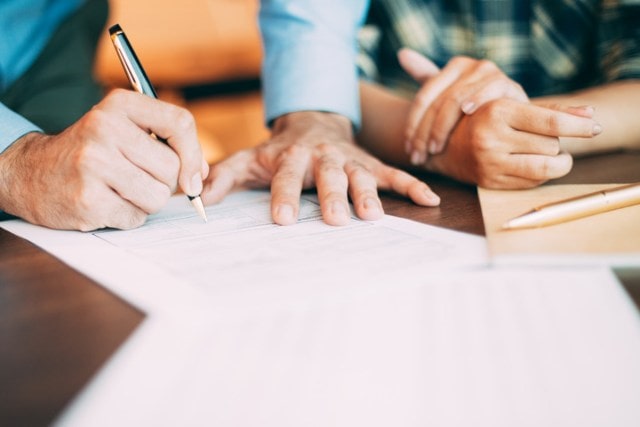 You have international recognition as an outstanding researcher or professor. You have at least three years of experience researching or teaching in your field of expertise.

You were employed by a firm for at least one year in the three years before filing Form I-140. You seek to enter the U.S. to continue working in a managerial capacity for the same employer.

You have an advanced degree or exceptional ability in arts, athletics, business, education, or sciences. Your exceptional ability will benefit the U.S. economy, welfare, and cultural or educational interests.

You are a skilled worker that requires at least two years of specialized training in your skill. You are coming to perform work for which no qualified U.S. workers are available.

You are a member of a profession with a baccalaureate degree.

You are an unskilled worker who requires less than two years of specialized training or experience. You are coming to perform work for which no qualified U.S. workers are available.

You are a member of the profession with an advanced degree or exceptional ability in arts, sciences, or business. You seek an exemption from the National Interest Waiver (NIW) job offer requirement.
Filing an I-140 Petition
The I-140 petition process typically begins with your employer filing Form I-140 on your behalf. The petition may be filed online or by mail. However, you may complete the form yourself in certain cases.
Consular processing can be used to complete the rest of the application process once the USCIS approves it. The petition will be transferred to the National Visa Center (NVC) upon approval. You must complete and submit the NVC's online application form for an immigrant visa. Your petition will be held until an immigrant visa is available at the NVC.
Form I-140 processing fees are $700 and are non-refundable, regardless of what the USCIS decides. You may also have to pay $325 for processing the DS-260 form and $85 for biometric services.
All necessary documents and supporting evidence must be attached when submitting the DS-260 form. All foreign language documents must be translated into English. Once the NVC has reviewed your application and documents, your case will be sent to the U.S. consulate in your country if you are eligible.
Once your priority date becomes current, the NVC will schedule your interview with a consular officer. If the consular office approves your application, you will receive a visa packet. You must present the sealed packet to the immigration officer at the port of entry. You must pay the USCIS immigrant fee of $220 before traveling to the United States.
A Customs and Border Protection officer will determine whether to grant you admission at the port of entry.
Form I-140 Processing Time
The USCIS processing time for I-140 petitions depends on your visa category and the USCIS service center. The USCIS periodically updates the processing times on its online webpage. You can review the current case processing times for your I-140 petition here.
Premium Processing Service for I-140 Petitions
You may request premium processing services by filing Form I-907 together with your I-140 petition. If you already filed your I-140 application, you must file Form I-907 with the following:
A copy of Form I-797C (Notice of Action) showing the I-140 petition was accepted.

A copy of a transfer notice (if applicable) showing the location of the I-140 petition.
If you wish to request premium processing on Form I-140, you must pay $2,500 in filing fees. Premium processing requests should not be mailed to USCIS lockbox facilities. They should instead be sent to the USCIS service center with jurisdiction over the case. Requests for premium processing must include the original I-140, all supporting documents, and the filing fee.
What Documents Are Required for an I-140 Petition?
The supporting documents you must file with your application depend on your visa category. Some examples of these documents include:
A copy of your approved PERM Labor Certification

A copy of the job offer from the employer, including the job duties and proffered wage

A copy of your I-94 (Arrival/Departure Record)

Evidence of your membership in associations requiring outstanding achievements (if applicable)

Evidence of any internationally recognized awards or achievements (if necessary)

Evidence of professional publications

Evidence of scholarly research contributions

Official academic record showing your educational qualifications or degree
You can read the USCIS Form I-140 Instructions for a detailed list of documents to file with your application.
Need Help With Your I-140 Petition? Contact Us Today
Obtaining a green card is a life-changing event for immigrants. It allows them to reconnect with their loved ones and pursue permanent residency. Nevertheless, the process involves several intricacies that, if missed, can result in a denial. If you want to properly file your I-140 petition and avoid unnecessary risks, you need help from an immigration attorney in Texas.
At Andrew T. Thomas, Attorneys at Law, we can help you prepare your Form I-140. We know the supporting documentation to be provided for each visa category. Our attorneys will work with you to collect and submit the necessary evidence.
As an employer, you must meet certain requirements, including proving you can pay the proffered wage. We can discuss these demands and guide you through the immigration process. Our team can make the process relatively easy to understand.
If you intend to file an I-140 petition, contact us today. You should not start the process without seeking counsel from professional immigration attorneys.