Proudly Serving Dallas, FT.Worth, San Antonio, Houston.
OFFICE 1700 Pacific Ave. #3750, Dallas, TX 75201
OFFICE 851 Grainger St. Ste 107 Fort Worth TX 76104
OFFICE 110 Broadway St. Ste 370, San Antonio, TX 78205
OFFICE 815 Walker Street, Ste 945, Houston, TX
What Is the Duration for Adjustment of Status?
Adjustment of Status is a process that allows foreign nationals who are physically present in the U.S. to upgrade their immigration status, obtain a green card, and attain lawful permanent resident status without having to travel back to their home country.
The process is handled by the United States Citizenship and Immigration Services (USCIS). It is open only to those who qualify for a green card under the USCIS green card categories.
If you're looking to begin the process, you'll no doubt be excited about becoming a lawful permanent resident. However, it could take a while for the USCIS to process your application so you can begin to enjoy the perks of your new status.
Just how long? You may wonder. Unfortunately, estimating the precise amount of time it would take the USCIS to conclude your application is difficult. This is because the processing time for adjustment of status applications largely depends on several factors, including the green card category you belong to and your actions during the application process.
Below, we examine some of these factors to help you manage your expectations and avoid doing anything that could inadvertently delay or extend the processing timeline. Keep reading to learn more.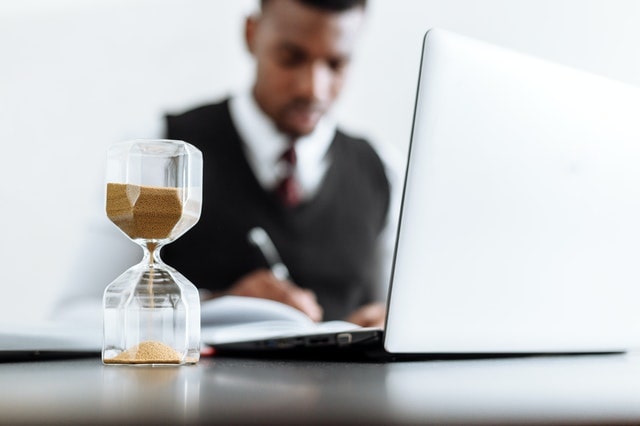 Factors That Could Affect the Duration of the Adjustment of Status Process 
Your Green Card Category
Most people seeking a green card through adjustment of status are required to have an approved immigrant petition before the process. The immigrant petition process takes a while, but until it is approved, the adjustment of status application cannot proceed.
However, there is an exception. The USCIS allows applicants in certain green card categories to file their adjustment of status application simultaneously with their immigrant petition in a process known as concurrent filing. When this happens, the USCIS will also process both applications together, which eliminates the time that would ordinarily have been spent waiting for the immigrant petition to be processed.
But for such applicants to be able to file concurrently an immigrant visa has to be available in their green card category. The number of visas available for each category each year is fixed. If the yearly visa quota for their category has been used up, the applicant has to wait until visas become available before filing the adjustment of status application.
This visa availability requirement does not apply to the immediate relatives (parents, spouses, and children under 21) of U.S. citizens. Immigrant visas are always available to them, so they can always file concurrently.
Therefore, if you belong to this green card category, your adjustment of status application would likely conclude faster than those in other green card categories.
Mistakes in the Application Form
The Adjustment of Status process begins when you file Form I-485- Application to Register Permanent Residence or Adjust Status with the USCIS. The USCIS has specific instructions for completing this form and requires you to provide information about yourself that supports your eligibility for the process.
You must complete the form accurately and follow the USCIS' instructions. If you make any mistakes, your application could be rejected.
Some of the common mistakes to avoid to prevent such issues include:
Forgetting to sign the necessary portions of the form or signing improperly (The USCIS will not accept a stamped or typewritten signature).

Providing false or inconsistent information

Typing your responses in colored ink (only black ink is permitted).
If the USCIS rejects your form, you may be able to file a fresh one. But you must review the new form and eliminate any mistakes in it before you file. Otherwise, the new application would go the way of the first one, putting your dreams of adjusting your status and achieving lawful permanent residence further out of reach.
If the USCIS Requires You To Submit Additional Evidence
Your Form I-485 must be accompanied by certain supporting documents when you send it to the USCIS. These documents serve as evidence that you qualify to have your status adjusted.
The specific documents you'll need to submit vary depending on the nature of your case but may include the following:
Your birth certificate (unless you're a refugee or asylee)

Documents showing that you entered the U.S. legally 

Your marriage certificate if your application is based on your marriage to a U.S. citizen

Evidence of financial support shows that you'll not rely on government benefits to survive if you become a lawful permanent resident.
If you fail to submit the required documents or if any of the documents you submit become invalid after you file, the USCIS may request you to provide additional evidence within a specified period.
That extra time it would take for you to receive and respond to the request adds to the processing time. If you wish to avoid such delays, you must do all you can to ensure that your supporting documents match the requirements for your application. This adjustment of status checklist can help you organize your documents before you file.
Where You File Your Application
The USCIS has specific mailing addresses for adjustment of status applicants. Your mailing address depends on your green card category. If you file your application at the wrong address, it will take some time for them to sort it out and get it to the proper location. This could delay the processing of your application.
Before you file, confirm that you have the appropriate mailing address to avoid such issues.
If You Are Scheduled for an Adjustment of Status Interview 
After filing your application, the USCIS may schedule you for an interview. This interview is not required in all cases. However, it may be difficult to predict whether you'll be asked to attend one, as the USCIS has sole discretion to determine when an interview is necessary.
An application in which the applicant has to attend such an interview would likely take longer to conclude than those in which no interview is required.
How an Immigration Lawyer Can Help
Even though the adjustment of status duration is largely unpredictable, there are things that you can do to ensure that your application is not delayed or processed for longer than is required.
You must avoid mistakes when you complete and file your application. You also need to ensure that the supporting documents you've provided meet the USCIS requirements.
It may be difficult for you to navigate the process correctly and understand all the conditions you have to meet to succeed. But you don't have to do it alone. You can get help from an experienced immigration lawyer who understands the intricacies of the application process. They can help you prepare a solid application that meets the USCIS' specifications and avoid the usual mistakes that cause processing delays.
That way, you're sure you've done all you can to ensure your application proceeds seamlessly and as swiftly as possible.
Get Help With Your Adjustment of Status Application at Andrew T. Thomas, Attorneys at Law
The Adjustment of Status process could be complex, and you may need assistance to understand the application requirements and avoid costly mistakes. Consider getting help from skilled immigration lawyers who can help you navigate the process and avoid mistakes that could extend the processing time.
At Andrew T. Thomas, Attorneys at Law, we are committed to helping immigrants obtain the documentation they need to legalize their stay in the U.S. We understand how adjustment of status works and can help ensure that your application meets the requirements standards.
If you'd like to begin the process or you've hit a snag somewhere along the line, contact us immediately. Let us represent you and provide the support you need to achieve lawful permanent residency without avoidable delays.